Location: Edmonton, Alberta
Term: Seasonal, June – October 2019
Direct Report: Traffic Control Manager
How to Apply: Please submit your resume directly to the job posting via our website: https://www.atstraffic.ca/careers/seasonal-flaggers/
Application Deadline: July 22, 2019
About ATS Traffic
ATS Traffic is a family-owned business that has been getting people home safety since 1966. At ATS Traffic our mission is to get people home safely every day. We support the creation of safer communities, smarter cities and infrastructure through our vast array of products and services. We provide traffic control, on-street services and signage products and services across Canada, currently operating out of offices in Edmonton, Calgary, Regina, Saskatoon, Langley and Winnipeg.
As the successful candidate you will demonstrate the ATS Traffic Core Values at work every day: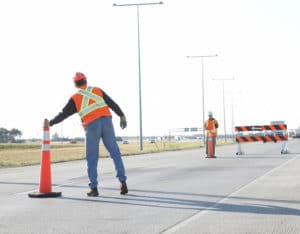 About the Role
What is a Flagger, you may ask? A Flagger directs traffic and ensures safety on the roads. You will signal to vehicles when to slow down, stop, and when it is safe to proceed. The Flagging role is fundamental to the success of ATS Traffic as this role ensures the safety of all road users.
Are you a self-starter who thrives on managing your own workload? Do you have a strong work ethic and willingness to work shift work? If so, apply today!
Qualifications
A valid (non-graduated) Class 5 driver's license and clean driving abstract is required to drive ATS Traffic company vehicles.
Own method of transportation to get to and from work
Ability to undergo and successfully pass a pre-employment drug and alcohol screening
Experience in either Traffic Control or Construction industries is an asset.
*We will provide training to the right candidate, apply today!
Why Choose ATS Traffic?
We have always been a family-owned business. When you join ATS, you aren't just a number: people remember your name and treat you like one of the family! You'll be working with a team you can trust and you'll be excited to come in on Monday morning.
Do you have a good attitude? Are you unafraid to speak up and tell us what you think? Do you work for a higher purpose? Do you do whatever it takes to get the job done? If this sounds like you, we think you'd be a great fit at ATS Traffic – apply today!

Please note that only those candidates selected for an interview will be contacted.