When you're working on a bridge, overpass, or section of road, you need the peace of mind that no one will get hurt. Truck mounted attenuators protect drivers and your crew from hazards on and around the road. Here at ATS Traffic, we can help you decide what you need to get the job done safely.
On December 2nd at approximately 5:30am, the Calgary EMS were notified of a collision in a construction zone on the Deerfoot. The driver of a small car was travelling at about 100 km/hour when the vehicle collided with a device known as a truck or trailer mounted attenuator, or TMA.
Scorpion® truck mounted attenuators are designed to be crashed into at highway speeds. These trailer and truck mounted TMA's are mounted on or behind large trucks, with the purpose of protecting vehicles and workers in temporary lane closures on high-speed, high-volume roads, or anywhere your crew needs additional protection.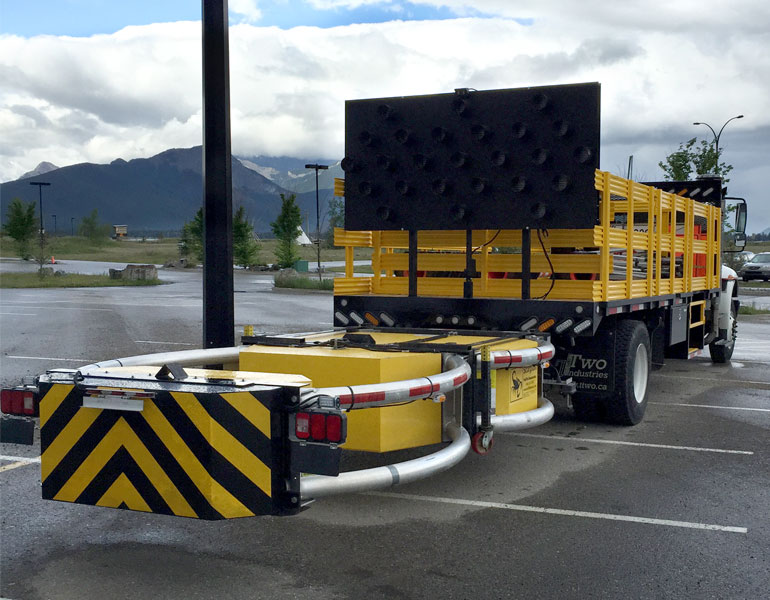 The truck mounted attenuator had all 12 beacons lit up and the arrow board on the unit was signaling traffic to move to the right lane. Dominic Dayan, Traffic Control Supervisor at ATS Traffic, was stationed in the truck mounted attenuator vehicle, watching the mirrors and rear-facing cameras when he noticed a small car approaching at high speeds.
"All I could do at this point was brace and take the hit," Dominic said. The hit happened very quickly and despite the TMA cushioning, Dominic said it was still a very hard hit. He alerted his crew member via the truck air horn, checked himself for injuries, then attended to the driver of the vehicle, who he found was unconscious. EMS crews arrived soon after and took the driver to hospital.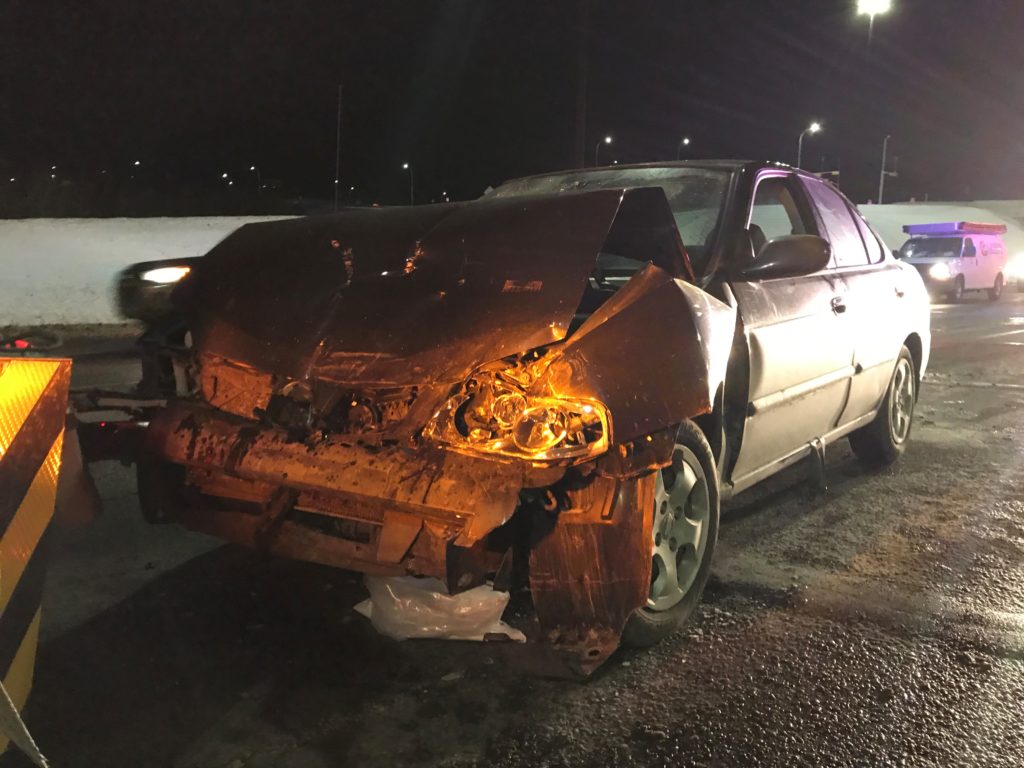 Dominic has 7 years experience doing traffic control and deployment of truck mounted attenuators. This was his first time being hit. The 'crash end' was able to absorb most of the impact, reducing the hit for Dominic and the vehicle that collided with the truck mounted attenuator. "If we did this job without a TMA and the accident was still to happen, I am confident the driver would have been killed and I would for sure have been put in the hospital, if not killed." Unfortunately, this is not the end of the story.
Three days later, on December 5th at approximately 9:30am, ATS Traffic employees Bryan and Todd were working in Calgary on a Deerfoot on-ramp. The driver of a mid-size SUV was travelling at approximately 80 km/h when their vehicle collided with the ATS truck mounted attenuator.
At the time of the collision, the ATS Traffic crew had speed reduction signage set up, and Bryan parked the truck mounted attenuator in behind Todd's lane closure truck while he worked on the shoulder of the road. The TMA truck was parked with all beacons lit with the arrow board instructing drivers to steer left around the crew. Soon after parking, Bryan felt the truck rock when he checked the cameras to find a vehicle had collided with the truck mounted attenuator.

"Even at a slower speed, the TMA absorbed most of the impact. Had the TMA not been there, the vehicle would have connected directly with the back of our one-ton lane closure trucks, or potentially our worker who was working beside the truck," Bryan explained. A truck mounted attenuator typically wouldn't be used in this location, but he figured the extra protection wouldn't hurt considering the collision that happened in the area a few days prior.
Truck mounted attenuators provide invaluable protection to road crews and drivers all over North America. They not only minimize property damage, but they prevent injury or even death. Learn more about our On-Street Services and crash attenuation products that you need to manage traffic during your project.
About ATS Traffic
Since 1966, ATS Traffic has helped organizations and communities keep workers, drivers, and pedestrians safe on our roads. With locations across western Canada and over 15,000 products in our inventory, we design and implement traffic control, on-street services, and workplace safety solutions that are customized for specific industries and project scopes. As a 3M™ Certified Fabricator, ATS Traffic is a proud leader in sign and barricade manufacturing as well as an award-winning provider of installation services, consulting, procurement and logistics, asset management, ITS solution architecture, and engineer services. For more information on ATS Traffic, visit our About section.
By Afton Doe, Communications Specialist at ATS Traffic