ATS Traffic has been Canada's best choice for traffic control since 1966. We aim to be one of its best employers, too. Many of our over 300 employees have turned their jobs into careers, and you can do the same. Take the next step in your career and join us.
People

We've always been a family-owned business. When you join ATS, you aren't just a number: people remember your name and treat you like one of the family. You'll be working with a team you can trust, and you'll be excited to come in on Monday morning. We want to maintain that family feeling by helping our branches communicate with each other better and work together to reach the same goals.

Strong communication brings us together, keeps everyone informed, and maintains the family feeling that's so important to us. History shows us that strength lies in unity. That's why we united each of our branches under one vision: to create strength through one culture, one brand, one company.
Perks

We give you the tools to do your job well. We provide employees access to training opportunities that can teach you how to become a leader and grow your career. Our management team is made up of experienced leaders who empower their people to make good decisions. In fact, in 2016 we were named one of Canada's Best Managed Companies.
You spend more time at work than you do at home, so we want you to be happy here. That's why we offer perks like vacation time, a health spending account, an RRSP contribution program, and regular company events like barbecues and holiday parties. You can even get involved in charity and community outreach events.
Values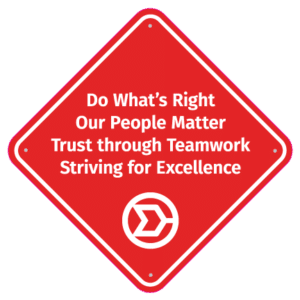 Do what's right. Our people matter. Trust through teamwork. Striving for excellence. These are the things we believe in, and they help us create an environment where people love to work. We need people who not only share these values, but also can put their ideas into practice to positively shape our company culture.
Do you have a good attitude? Are you unafraid to speak up and tell us what you think? Do you work for a higher purpose? Do you do whatever it takes to get the job done? If this sounds like you, we think you'd be a great fit at ATS Traffic.