We worked with Alberta Transportation, Ver-Mac and various contractors and project engineers on the traffic management components of the Ivor Strong Bridge Project in Calgary, AB. 
Work was required to replace the bridge's expansion joints, which meant closing lanes and causing major delays. Our challenge: to manage traffic as efficiently and effectively as possible, while maintaining project deadlines and traveler safety. 
Challenge
Alberta Transportation was set to begin the Ivor Strong Bridge Rehabilitation Project in the Spring of 2016, but faced significant challenges with project timelines, environmental restrictions and logistics. Knowing that the proposed project's lane restrictions on the Ivor Strong Bridge would result in the displacement of up to 4000 vehicles per hour during the peak traffic periods, the traffic management solution had to be both strategic and comprehensive.
Along with seasonal construction constraints, other project challenges included completing the work before the start of the annual Calgary Stampede, maintaining an aggressive project schedule while trying to reduce delays and ensuring the safety of both workers and drivers.
After meetings with Alberta Transportation and project contractors and engineers, we proposed a comprehensive Traffic Management solution that could both reduce traffic congestion and ensure traveler safety, while keeping the project on-time and on-budget. We got to work right away, developing drawings and overseeing project management and implementation of the Intelligent Transportation System solution.
Our Process
Intelligent Transportation Systems (ITS)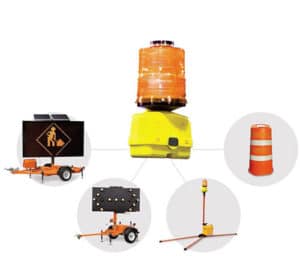 Intelligent Transportation Systems improve safety and mobility on roadways, provide useful driver information, improve traffic flow, and ultimately contribute to the reduction of traffic delays, injuries and fatalities. ITS combines data collection with data analysis to product fully automated traffic information to motorists about real-time downstream traffic conditions. These systems are made up of three major components:
Sensor – To detect hazards such as speed of temperature. In the case of the Ivor Strong Bridge project, this was the Ver-Mac Speed Mac portable radar detectors. 
Software – To collect and analyze data. For this project, the Ver-Mac JamLogic traffic analytics software was used to collect and compute real-time data to be broadcast to travelers.
Messaging – The dissemination of information to travelers about downstream traffic conditions or alternative routes. For this project the Ver-Mac NTCIP-complaint Smart Work Zone portable electronic message boards were used to allow drivers ample time to reduce speed and make informed travel decisions. 
Outcome
The Ivor Strong Bridge ITS Integration & Traffic Management Project, which required months of planning and several months for project completion, proved to be extremely successful. Alberta Transportation was pleased with our ability to address the logistical challenges of the rehabilitation project with an innovative solution.
With an accelerated construction period and an increased volume of traffic due to lane restrictions and speed limit reductions, the project required careful planning and execution. We were able to address these challenges with the innovative solutions from our partners at Ver-Mac, our On-Street services team, and the assistance of the Alberta Transportation team, contractors and consulting engineers.
"It is of paramount importance to us and our clients to keep the public informed about anticipated traffic disruptions during construction of our projects. The Intelligent Traffic System, implemented by ATS Traffic during construction work on the Ivor Strong Bridge on Deerfoot Trail in Calgary, enhanced our ability to keep the public informed. We went beyond just advising travelers of the disruptions; we were able to provide estimated travel times and alternate routes. We were pleased with the results of using the Intelligent Traffic System on the Ivor Strong Bridge project."

-Scott Murphy, P. Eng. (MOST Engineering Ltd.)
Project Success
ATS Traffic, along with a series of partners including Ver-Mac and Alberta Transportation, was honoured to receive the 2017 Award of Excellence for Construction Innovation for the Ivor Strong Bridge ITS Integration & Traffic Management Project, presented at the 2017 Tri-Party Transportation Conference in Red Deer, Alberta.
Presented by the Minister of Transportation for Alberta, the honorable Brian Mason, the Minister's Awards for Transportation Innovation recognize the innovative people and organizations in Alberta who plan, design, construct, operate or maintain a roadway, transit service or related initiative.
To read the full Case Study, click here: Ivor Strong Bridge Case Study